I'm doing a fun combined photo challenge post again ~ I like doing it this way because I get more traffic than five small posts and other people may learn about challenges they didn't know about before. If you would rather have your challenge separated, just let me know!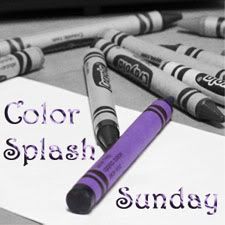 Color Splash Sunday with Amy -- the theme is Toys of Yesterday. Technically the rules say to take a picture of toys you have now that you grew up with, but I don't have any fun photos with my blankie ... so here is a picture from the past. This is me at around 4 or 5 playing with my Teddy Rumpskin!
In a Yellow House theme is Summer ... and even though I missed this challenge by 2 hours, I wanted to show this picture anyway!
The theme here is School. Leah is my oldest at almost three, so we are not in school yet, but we do play educational games on the computer. This is a picture of Leah teaching my dad -- Granddaddy -- how to play "Cows don't Quack"
The Paper Mama challenge is Sleepy. Nothing is cuter than a sleeping baby ...