Yay for Monday pictures and photo challenges!
Paper Mama's theme is In the Sun.
Leah playing in the sun!
Color Splash Sunday with Amy is Your Choice this week! I chose to color my Wild Apple toes!
Mono Monday with Alysha aka Supermom the theme is Happy!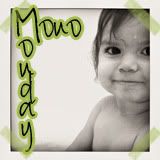 These faces make me happy!
This is my wedding dried wedding bouquet ... just having fun with my camera!